Up and beyond:
Mastering professional challenges
Staff development for your company
Every day potential is lost. According to the Gallup Engagement Index, 2 out of 3 employees are not being given the opportunity to do what they do best. This is because they are either in professions or positions that do not match their strengths or skill set or because they aren't performing to their maximum capacity. It's little wonder then that only 15 percent of employees feel real commitment to their work. This is as fatal for an employee's personal job satisfaction as it is for their employer. It doesn't have to be this way. Some 77 percent of employees would still continue to work even if they inherited enough money to enable them to stop working. You can take advantage of this positive attitude. Whether in a corporation, an owner-operated business or in a public institution, if you strengthen the ability in others to master change and broaden their competence, you will see not only a rise in employee motivation and loyalty but also in productivity. With our experience in behavioral and personality-based psychology we can assist technical and managerial staff, staff managers and decision-makers to promote this professional development.
Offers for...
Rethinking your managerial career

Rethinking your managerial career

Technical and managerial staff are up against high demands. They are expected to be technically outstanding, performance oriented and at the same time socially competent. For the individual, this raises many questions. How do I want to lead, how do I deal with difficulties? How do I conduct performance reviews or target agreements? How can I perform better? In our one-day intensive consultation we assist you and your employees to develop individual leadership and decision-making strengths, to consciously deal with challenges and make maximum use of their potential.

Consultation Procedure

1. Initial meeting

Whether you are taking part in the consultation yourself or are making a booking for an employee in your company, we have an initial discussion either over the phone or face-to-face. We discuss the goals you are pursuing and how our consultation can help you achieve them, what the focus of the consultation should be and our role in the process.

2. Pre-Questionnaire

To prepare you or your employee for the consultation we get in touch with you beforehand and start you off with a small task – a personalized questionnaire that we put together relating to your goals and the first online tests which will prepare you for your day with us and sharpen your awareness.

3. Personal conversations

The day of the consultation is dedicated entirely to your personal work and life situation. An intimate, trusting atmosphere is very important to us. For this reason we place a lot of importance on the protection of your privacy and our discretion – even if the consultation is part of a staff development measure.

4. Well-founded diagnostics

In addition to structured in-depth interviews there are a number of staff psychology and suitability diagnostic tests on the program for you or your employee. From a pool of modules we select those that suit your issues and concerns. In this way the program and method are adapted to your specific criteria.

5. The presentation of results

Based on the test results, exercises and conversations we make concrete recommendations for you or your staff and explain how further development can be achieved in terms of your or their potential and the company's goals. Together we set milestones and discuss the next steps towards reaching them.

6. Documentation

At the end of the consultation you receive documentation with all the results and recommendations. If the consultation is part of a staff development measure, the selected analyses – depending on your goals and agreement – are integrated into further internal support and guidance. In this way, findings can be sustainably anchored and effectively implemented.

The consultation often triggers a process that isn't over in one day. We are happy to assist you or your employee after our consultation in individual coaching units. Multiple counselors in our team have coaching or therapy qualifications, so you are able to use any one of them as a contact person when taking up this offer.

Team building and personality development in groups

Team building and personality development in groups

Whether they are agile or classic, newly formed or seasoned, teams are the backbone of any success. How well they function depends significantly on how well each member knows himself or herself. Someone who knows their own patterns and structures has a better understanding of others. If there's a problem in collaboration, an outsider's perspective can be helpful in understanding and influencing individual and collective dynamics. If results are good, a personality oriented view of each member can increase esteem and motivation. This is an effect that can assist groups that aren't necessarily a team but are faced with the same challenges – such as executive committees, staff that have been affected by (digital) change or research assistants. For teams and groups we offer one to two-day workshops that we can tailor to your specific goals.

Consultation Procedure

1. Initial meeting

You can speak to our directing manager either in person or over the phone and discuss your current situation and desired outcome for your team or your group. Together we can outline challenges, barriers and opportunities, work through concrete tasks and define our role in the whole process.

2. Offer

Based on this, we create an individual offer for you. In it, we summarize the background as well as your objective to ensure a common understanding. Additionally, we describe concrete tools and modules that we put together for your workshop.

3. Test procedure

Before starting, all participants take selected online tests. Based on this, we create a personality profile for each individual. This allows us to cater to individual needs in the workshop and at the same time sort them into dynamics within the team or group.

4. Workshop

Every workshop focuses on the strengths and talents of the participants – in the context of their own career and the goals of their employer. To take advantage of the impetus created by the workshop and to ensure the effect on their job is sustainable, each participant receives a dossier with their test results for them to read and to take the next steps.

In our workshops we place importance on catering to each participant individually. For this reason our offers take place in small groups under the direction of two counselors. In this way we can be sure that everyone gains something and that your investment pays off.
Prices
Our offers for companies
Prices do not include tax
| | |
| --- | --- |
| Intensive consultation for technical and managerial staff | € 2,200 |
| Add-on: Follow-up coaching, hourly | + € 220 |
| Workshops for teams and groups | Price on request |
"The only way to do great work is to love what you do."
— Steve Jobs
Presentations
Whether it's about founding or failing, leadership or decision making styles, change or motivation at work – Ragnhild Struss offers key note speeches and podium discussions on diverse aspects of personality-oriented career planning.
Based on her findings and experience gained since founding the company over 15 years ago, her talks are inspiring and motivational. The spectrum of topics we can cater to is just as broad and diverse as career paths themselves can be. Simply get in touch with us.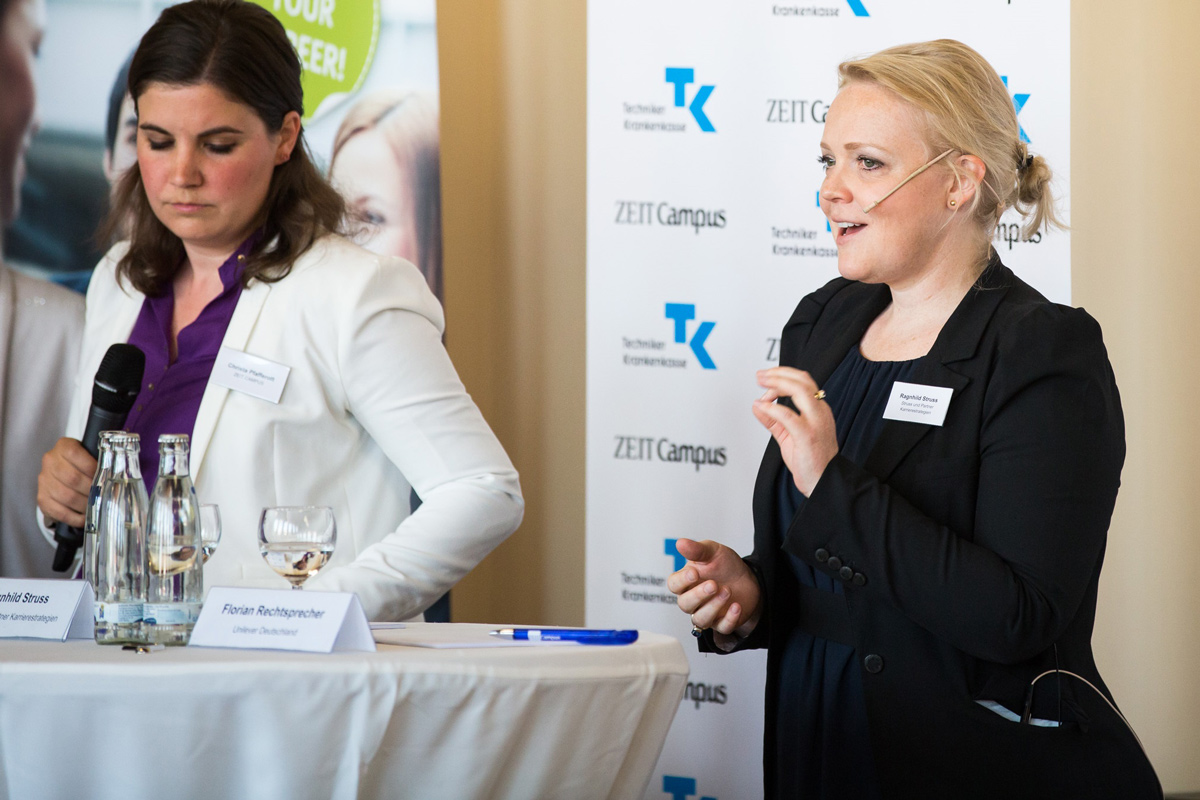 Media
When the topic of career comes up in the media, Struss & Claussen are often the go-to experts. A selection of articles gives you an overview of our career-related media coverage.
About us
Come to us and you will be met with consultants who – through analytical reasoning and knowledge of human nature – are committed to helping.
Contact
If you have a query, would like to book an appointment or are interested in a free initial consultation, get in touch with us now!