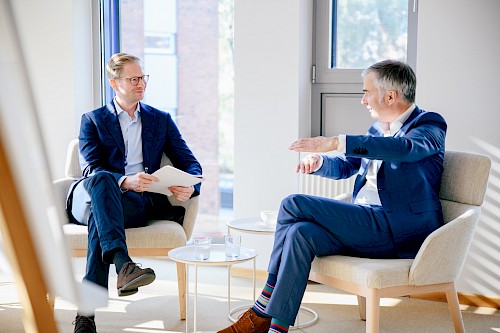 Workforce Development
Raise and use potentials
Staff development for your company
Potential is lost every day. 2 out of 3 employees don't have the opportunity to do what they do best every day, according to the Gallup Engagement Index. That's because they're doing jobs or holding positions that don't match their skills, or they're not performing to their potential. No wonder only 15 percent of employees are passionate about their work. This is just as fatal for employers as it is for personal job satisfaction.
The fact is that people bring their personality with them into the company. Their strengths and special talents as well as their values and needs, but also their weaknesses and blind spots. This applies to owners, managing directors, specialists and managers as well as to all other employees. Recognizing this for each individual releases potential. Companies can promote personal development and benefit economically at the same time - from greater motivation, loyalty and productivity. Soft factors that pay off hard. 
The topics we have already supported in the past are as diverse as our customers. Whether it's about employee retention in a medical practice or law firm, generational change in a family business, or leadership culture in a corporate group: With our experience in organizational and personal psychology, we create an individually tailored offer for a wide range of concerns. 
Offers for...
Technical and managerial staff

Rethinking your managerial career

Technical and managerial staff are up against high demands. They are expected to be technically outstanding, performance oriented and at the same time socially competent. For the individual, this raises many questions. How do I want to lead, how do I deal with difficulties? How do I conduct performance reviews or target agreements? How can I perform better? In our one-day intensive consultation we assist you and your employees to develop individual leadership and decision-making strengths, to consciously deal with challenges and make maximum use of their potential.

Consultation Procedure

1. Initial meeting

Whether you are taking part in the consultation yourself or are making a booking for an employee in your company, we have an initial discussion either over the phone or face-to-face. We discuss the goals you are pursuing and how our consultation can help you achieve them, what the focus of the consultation should be and our role in the process.

2. Pre-Questionnaire

To prepare you or your employee for the consultation we get in touch with you beforehand and start you off with a small task – a personalized questionnaire that we put together relating to your goals and the first online tests which will prepare you for your day with us and sharpen your awareness.

3. Personal conversations

The day of the consultation is dedicated entirely to your personal work and life situation. An intimate, trusting atmosphere is very important to us. For this reason we place a lot of importance on the protection of your privacy and our discretion – even if the consultation is part of a staff development measure.

4. Well-founded diagnostics

In addition to structured in-depth interviews there are a number of staff psychology and suitability diagnostic tests on the program for you or your employee. From a pool of modules we select those that suit your issues and concerns. In this way the program and method are adapted to your specific criteria.

5. The presentation of results

Based on the test results, exercises and conversations we make concrete recommendations for you or your staff and explain how further development can be achieved in terms of your or their potential and the company's goals. Together we set milestones and discuss the next steps towards reaching them.

6. Documentation

At the end of the consultation you receive documentation with all the results and recommendations. If the consultation is part of a staff development measure, the selected analyses – depending on your goals and agreement – are integrated into further internal support and guidance. In this way, findings can be sustainably anchored and effectively implemented.

The consultation often triggers a process that isn't over in one day. We are happy to assist you or your employee after our consultation in individual coaching units. Multiple counselors in our team have coaching or therapy qualifications, so you are able to use any one of them as a contact person when taking up this offer.

Board and management members

Intensive consulting for board and management members

A high level of complexity requires not only efficient self-management, but above all a profound understanding of oneself: Those who know themselves know how they can deal with challenges. This is where we come in with our intensive consulting for members of the board and management. We make the individual gain in knowledge the basis for successful corporate management, initiate and accompany the practical transfer.

Our approach is not a standard one, but is geared specifically to your requirements. For example, we also offer flexible consulting in tandems, both digitally and on-site, compressed or distributed over several appointments, in order to efficiently consolidate, deepen and consolidate. 

Teams and groups

Workshops for teams and groups

Whether they are agile or classic, newly formed or seasoned, teams are the backbone of any success. How well they function depends significantly on how well each member knows himself or herself. Someone who knows their own patterns and structures has a better understanding of others. If there's a problem in collaboration, an outsider's perspective can be helpful in understanding and influencing individual and collective dynamics. If results are good, a personality oriented view of each member can increase esteem and motivation. This is an effect that can assist groups that aren't necessarily a team but are faced with the same challenges – such as executive committees, staff that have been affected by (digital) change or research assistants. For teams and groups we offer one to two-day workshops that we can tailor to your specific goals.

Consultation Procedure

1. Initial meeting

You can speak to our directing manager either in person or over the phone and discuss your current situation and desired outcome for your team or your group. Together we can outline challenges, barriers and opportunities, work through concrete tasks and define our role in the whole process.

2. Offer

Based on this, we create an individual offer for you. In it, we summarize the background as well as your objective to ensure a common understanding. Additionally, we describe concrete tools and modules that we put together for your workshop.

3. Test procedure

Before starting, all participants take selected online tests. Based on this, we create a personality profile for each individual. This allows us to cater to individual needs in the workshop and at the same time sort them into dynamics within the team or group.

4. Workshop

Every workshop focuses on the strengths and talents of the participants – in the context of their own career and the goals of their employer. To take advantage of the impetus created by the workshop and to ensure the effect on their job is sustainable, each participant receives a dossier with their test results for them to read and to take the next steps.

In our workshops we place importance on catering to each participant individually. For this reason our offers take place in small groups under the direction of two counselors. In this way we can be sure that everyone gains something and that your investment pays off.
Prices
Our offers for companies
Prices do not include tax
| | |
| --- | --- |
| Intensive consulting for specialists and executives with a Coach from the Struss & Claussen team | € 2,300 |
| Add-on: Intensive consultation with a Partner | + € 400 |
| Optional: Follow-up coaching, hourly, with a Coach / Partner | € 230  / € 270  |
| Add-on: Intensive consulting for members of the board and management with a Partner | € 2,700 |
| Optional: Follow-up coaching, hour,ly with a partner | € 270  |
| Workshops for teams and groups incl. preparation and follow-up, test procedures, material and implementation with two trainers | Daily rate per trainer |
"The only way to do great work is to love what you do."
— Steve Jobs
Presentations
Whether it's about founding or failing, leadership or decision making styles, change or motivation at work – Ragnhild Struss offers key note speeches and podium discussions on diverse aspects of personality-oriented career planning.
Based on her findings and experience gained since founding the company over 15 years ago, her talks are inspiring and motivational. The spectrum of topics we can cater to is just as broad and diverse as career paths themselves can be. Simply get in touch with us.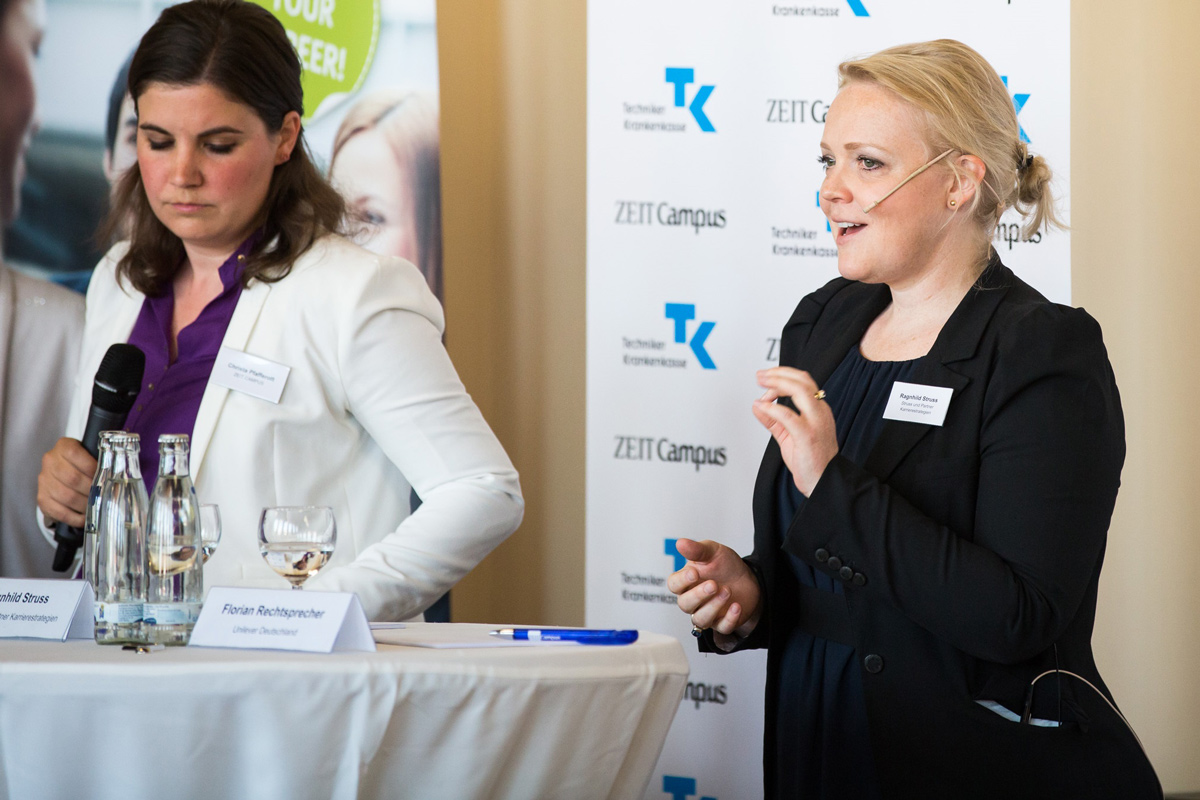 Media
When the topic of career comes up in the media, Struss & Claussen are often the go-to experts. A selection of articles gives you an overview of our career-related media coverage.
About us
Come to us and you will be met with consultants who – through analytical reasoning and knowledge of human nature – are committed to helping.
Contact
If you have a query, would like to book an appointment or are interested in a free initial consultation, get in touch with us now!