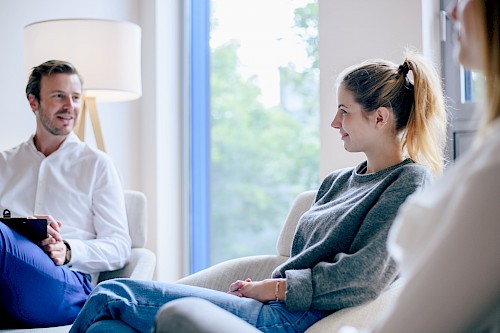 What should I become?
With study & career counseling to a concrete plan!
Study and career entry counseling
Whether you've finished school, your Bachelor degree or a Master's – in the end, you're always left with the same question. What now? A simple question with an infinite number of answers. Deciding on one of them can be difficult. After all, you are setting the course that will guide your future career.
Career doesn't mean the same thing to everyone. We define "career" as using your skills to the best of your ability and continuing to grow. The requirement for this? Knowing your potential! And above all, knowing yourself! What can I do? What motivates me? What do I need to work well? What is important to me – in work and in life? We explore these questions together in our consulting sessions and at the end of the day we present you with a concrete plan.
A routine career counseling session
The early bird...
The career counseling begins in the early morning and comprises different elements, which include interviews, individually tailored modules, a number of personality tests and a cognitive performance process. In this way, we analyze your personal traits, your performance motivation, patterns of behavior and communication, your learning style and temperament.
In personal conversation
Over the course of the entire day of counseling you will be looked after by one of our career consultants exclusively dedicated to your analysis. In personal conversations your consultant will touch on the issues that you have set for the day and take a comprehensive look at your life, your talents and personal preferences. An atmosphere of trust when having this conversation is very important to us.
Our one-on-one principle
Two pairs of eyes see better than one. That is why at Struss & Claussen your consultant discusses your personality profile and your potential profile with another colleague. In doing so, your consultant is sure to factor in all possible perspectives and find the best options and strategies for you. You can rely on our colleagues to handle all information we receive from you with responsibility and care.
The results
In the afternoon your consultant presents you with the results. We recommend you to invite partners or close friends to this final conversation. Based on the findings collected over the course of the day, your consultant will give you concrete recommendations. Together, we set goals and discuss next steps. The final presentation usually takes around one and a half to two hours.
Further reading and follow-up
At the end of the day you receive all the results, recommendations and additional information in the form of documentation. Intended as a reminder, it is prepared in such a way that you can understand all the results and conclusions easily and if needed, delve more deeply into explanations. Once you've had a chance to process the day's impressions, you can use the documentation as a working foundation to get you started.
Sharing Ideas
The consultation is often the starting point in a process of change that isn't necessarily over in 24 hours. For this reason we continue to accompany you afterwards. After your appointment you can come to us for one year with any questions relating to your career counseling session, applications, job advertisements or deadlines – without additional costs.
Grace
For Grace, the way is now clear: she is happy about the recommendations she's received – and that she now has one of four paths to choose from, as opposed to one of millions.
Luna W.
"I am slowly starting to realise what this experience has done for me. I am really very impressed. You basically took the "jigsaw puzzle pieces" of my life and sorted them by color, and then started setting out the edges to make the jigsaw frame. Not only did you advise me in a professional capacity, but you also managed to help me to progress emotionally. I have the feeling that I am now able to deal with my issues more easily. I couldn't be more grateful, and I will often think back to this day."
Albert L.
"I would like to thank you again for such an informative and pleasant day. I was fascinated by the fact that you were able to paint such a true and all-encompassing picture of me, my personality and my hidden talents and weaknesses, in such a short space of time. I appreciate and accept your evaluation, recommendations and advice with a hint of bewilderment, because everything was so uncannily apt. This day managed to dispel some of my fears and doubts, and I feel I have been armed with more confidence and given a new direction. I look forward to staying in touch."
Parents of Hans M.
"After attending a consulting session with Struss and Partner five years ago, our son said that "No-one ever worked me out like that before!". We were as impressed by this feedback as with the presentation we were given at the end of the consulting day. It showed us a son who can work enthusiastically, and has huge potential, which was not reflected in his school results. After the consulting day, Hans worked through the materials he received, and then applied to one of the recommended colleges. He started his course and really started blossoming; he walked away with a Bachelor degree, and found a great job. Looking back, we are deeply grateful, as the consulting session and resulting recommendations have been the key to setting Hans on the right path again."
Anna Bubolz
"Today I received confirmation of my place for the university course you recommended. I'm starting in the winter, and I am really looking forward to it. I remembered the session I attended with you, and I would like to take the time to thank you again for the excellent consultation. You really are doing a fantastic job!"
Prices
Study and career entry counseling (for school and collgege students and graduates) 
Prices include tax
Including 1
year of follow-up
queries
| | |
| --- | --- |
| Consultation with a Consultant from the Struss & Claussen team | €1,800 |
| Add-on: Consultation with a Senior Consultant / Coach / Partner | + €200 / + €500 / + €900 |
The colleagues from the Struss & Claussen team provide advice to different extents: Our Senior Consultants focus on advice for school and university students, als well as graduates and young professionals. Our Coaches are contact persons for young adults as well as for clients with professional experience. In addition, they advise specialists and executives for corporate clients and conduct workshops. Our Partners cover the entire range of services from entry-level consulting to consulting for board and management members. Our prices are daily rates and are based on the consulting scope of the respective colleagues.
Included in the price is our follow-up consulting service: For one year after your appointment, you can contact us with questions that arose from the final presentation. Whether it's about the results of the test procedures, the specific recommendations or documents in your personal consulting folder - we'll be happy to help you. If there is a need beyond that, we will be happy to accompany you with offers that tie in with the counseling: application training or individual coaching on topics such as motivation, self-confidence or personality development can be booked with us on an hourly basis. 
With existing customers, we can build on existing knowledge. That's why they receive a 20% discount for each follow-up consultation - for example, a master's or career entry consultation after the study consultation. The discount is personal and non-transferable. It only applies to follow-up consultations and not to other services such as training or coaching. 
Step up!
To give socially disadvantaged youth a chance to use our consulting services free of charge, we started the project "Step up! Career Paths".  If you are interested in applying for the career scholarship, please read the conditions to see if you are eligible.  
"The greatest thing is not to be this or that but to be yourself."
— Søren Kirkegaard
FAQ
What can I expect from a consultation? What does a consultation look like? What happens afterwards? Questions, questions...our FAQs have answers.
About us
Come to us and you will be met with consultants who – through analytical reasoning and knowledge of human nature – are committed to helping.
Contact
If you have a query, would like to book an appointment or are interested in a free initial consultation, get in touch with us now!