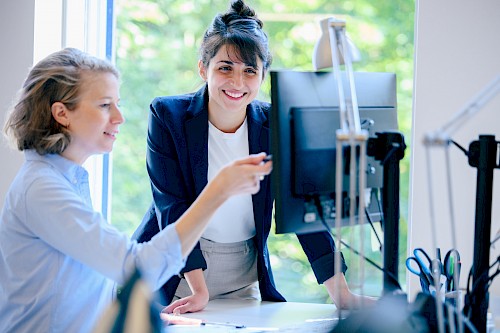 Career counseling online
simple and flexible via video chat
Digital and close
Struss & Claussen offers all services - from individual study and career counseling to workshops - not only in Hamburg, but also digitally from anywhere. Our aim with online counseling is to be just as personal and close to our customers as we are on site. The feedback we receive from our customers shows that we succeed.
Taking personality tests online 

Several years ago, we introduced online consulting for our customers from abroad, transferring our well-founded approach to the digital world. Here, too, our personality diagnostic test procedures form the basis. As a client, you receive a profile in our online portal and go through a number of tests before the day of the consultation. You can interrupt the process, which takes several hours, at any time and resume it later. Your results are stored centrally. It goes without saying that we adhere to the highest data protection regulations.
Online conversations via video chat 

Online consulting is not only a relief from a technical point of view: In the home environment or at the location of choice, customers are often freer to talk than in an unfamiliar office. This ensures openness and accessibility in the in-depth personal conversations that form the core of our consulting. If you or your companions have busy schedules, online counseling is a practical alternative. There is no stress or expense of travel and overnight accommodations. Everyone involved can participate from different locations. In addition, online counseling offers you the opportunity to record conversations and view them again afterwards to deepen and refresh your knowledge. All documents, such as the evaluations of the test procedures and recommendations, are then available to you digitally.
Your advantages with online consulting
Flexibility in preparation
Time and cost savings
Consultation comfortably from home or the place of choice
Participation of several accompanying persons from different locations
Recording of the results presentation
Digital documentation of the consultation and the recommendations
Sequence of the remote consultation
Of course, we also accompany you with online counseling beyond the counseling day: Pupils, students and graduates can contact their counselor free of charge for one year to clarify questions that have arisen from the counseling. For clients with professional experience, we bundle this follow-up counseling into a one-hour follow-up coaching session, which is already included in the price. We recommend that you take advantage of this opportunity within the first three months after the consultation so that you can absorb and implement impulses directly.
We would be happy to inform you about this service in a non-binding telephone call.
"We were thrilled with the consultation: The consultant managed to understand our daughter and to give her guidance in ways that we would never have managed on our own - mainly through fear of giving her the wrong advice. The results are a real help when it comes to choosing a university course. The process was incredibly simple: The tests could all be answered online and both the personal conversation with our daughter and the feedback discussion went smoothly via Skype, meaning we didn't have to travel all the way from Chicago to Hamburg!"
— Britta B.
"I've not yet experienced the "normal" consultation, but my experience over Skype was really positive. I felt at ease during the conversation and didn't have the impression that distance played a role in the slightest."
— Paul Miksa
"I am slowly starting to realize how this experience impacted me. You basically color coded the pieces of the jigsaw puzzle - which is my life - and completed the edges of the puzzle. It was way more than a consultation, you also helped me emotionally. I now feel more ready to tackle obstacles. I couldn't be more thankful and will dearly remember this day!"
— Luna W.